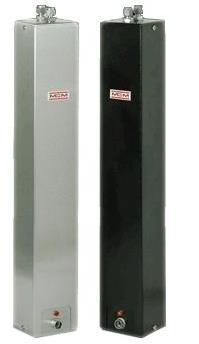 Desiccant Dryers
Continuous drying with seamless regeneration
MCM's range of Continuously Operating Desiccant Dryers (CODD) are intended to provide a constant flow of 'dry' Air or N2, certified by NPL to be drier than -75°C Dewpoint.
Incorporating either 2 or 4 columns, dependent on the required flow, these on-line dryers (dehumidifiers) switch between duty and regeneration columns, thus ensuring that the desiccant is always in its best possible condition.
An MCM Continuously Operating Desiccant Dryer (CODD) offers the following advantages:
A constant supply of 'dry' gas is essential for the integrity of any process where the presence of moisture can be critical.
The performance of any hygrometer can be optimised, and the mean service interval extended, by purging with 'dry' gas when the instrument is not being used.
No user interface required – automatic regeneration of the desiccant.
The desiccant can aid in removing light contaminants from the gas.
The provision of a 'dry' reference gas enables the operator to easily check the calibration of a portable hygrometer.
Product Specification
| | |
| --- | --- |
| Column Type | Stainless Steel, Desiccant Filled |
| Suitable Gases | Oil-free Air or N2. Dryers for other carrier gases (e.g.: Natural Gas, H2) upon request. |
| Maximum Output | Up to 100 litres / minute. |
| Regeneration | Automatic – by internal heating of the desiccant. |
| Regeneration Frequency | Continuous – the dryer automatically switched between duty and regeneration cycles. |
Bottled Gas Dryer
Portable Gas Drying to < -75°C Dewpoint
For applications where a fixed installation dryer (dehumidifier) is not practical, MCM's Bottled Gas Dryer (BGD) offers a portable 'dry' gas source, also certified to <-75°C Dewpoint. Featuring a single column, the BGD has no day-to-day power requirement and is therefore an ideal tool for work in hazardous areas.
Offering the same advantages as a CODD, it is recommended that clients always use a BGD on portable moisture analysis applications, where contamination in the gas stream may degrade the performance of the Sensor (e.g.: petrochemical applications). A BGD offers an extremely cost-effective method of checking for contamination and drift of the instrument's 'zero' point.
Product Specification
| | |
| --- | --- |
| Column Type | Stainless Steel, Desiccant Filled |
| Suitable Gases | Oil-free Air or N2, Dryers for other carrier gases (e.g.: Natural Gas, H2) upon request. |
| Maximum Output | 25 litres / minute |
| Regeneration | Manual – by heat and reversal of flow in a designated Safe Area. |
| Regeneration Frequency | Dependent on usage and moisture loading in the carrier gas. Please ask for further details. |