Portable Vibration Shaker Tables
Portabele vibration shaker tables are desinged to be used in the field or shop to verify the performance and calibration of vibration transducers, connectors, cabling, instruments or permanently installed condition monitoring systems.
Metrix HI803 and HI813 portablel vibration shaker tables are capable of monitoring acceleration, velocity and displacement type sensors. Both contact and non contact type sensors can be tested to the highest accuracy. Measurements are and tracable to either NIST or NATA standards.
As these shakers tables are often used in the field and continuously transported, the HI803 and HI813 vibration shaker tables are engineered and built to survive in hard wearing conditions. The internals are ruggedised and the casing is durable to last many years of field service.
Model: HI 803 - Delux Vibration Shaker Table
This top-of-the-line Hardy shaker includes more operational functions. In manual mode, the vibration test level and test frequency can be set from 10 Hz to 10,000 Hz. In sensitivity mode, the HI 803 not only vibrates the transducer being tested, but also measures its output and calculates its output sensitivity. A built-in display reads the output sensitivity, which can be stored in memory. Complete testing sequences and data can be stored in memory for each tested sensor, and a built-in printer logs data on the spot or stores it for later. An RS232 port and data transfer program are standard, and ASCI II test data files are easily transferred to a computer. For testing of heavy transducers or at high frequencies, the HI 803 automatically corrects the sensitivity calculation for the effects of transducer mass loading. It also measures and displays transducer phase, which is important in balancing applications. A built-in self test program checks for accuracy of all calculations.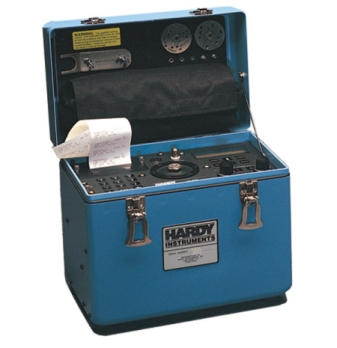 Features:
Actual precision vibration testers
True and accurate testing of vibration sensors
NIST traceable calibration reference
High-level vibration accuracy
Variable frequency and adjustable vibration amplitudes
Rapid set-up for all vibration conditions
Battery operated
Ability to "take the calibration lab to the field"
Print out tracable calbration reports in the field
Store and record via the onboard memory


HI803 Data Sheet

Model: HI 813 - Standard Vibration Shaker Table
Used for testing from 25 to 10,000 Hz, the Hardy HI 813 Shaker offers adjustable frequency and adjustable vibration level. This provides a reference source for verifying the accuracy of vibration transducers, connectors, cabling and instruments or instrumentation systems. To find intermittent cables or loose connections, testing in the frequency range of 500 Hz to 2,000 Hz is usually required. The HI 813 has a ruggedized suspension system that can support heavy transducers (up to 750 grams) that require testing in a horizontal direction, instead of the normal vertical direction. This added support makes this shaker a good choice for heavy duty field use. The HI 813 has a built-in battery charger that can operate on 120 or 240 VAC.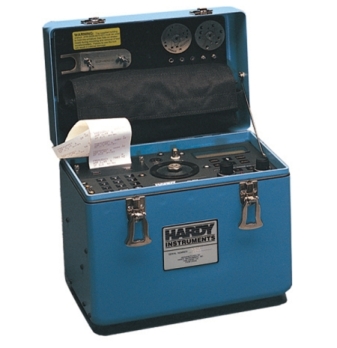 Features:
Actual precision vibration testers
True and accurate testing of vibration sensors
NIST traceable calibration reference
High-level vibration accuracy
Variable frequency and adjustable vibration amplitudes
Rapid set-up for all vibration conditions
Battery operated
Ability to "take the calibration lab to the field"