Temperature Sensors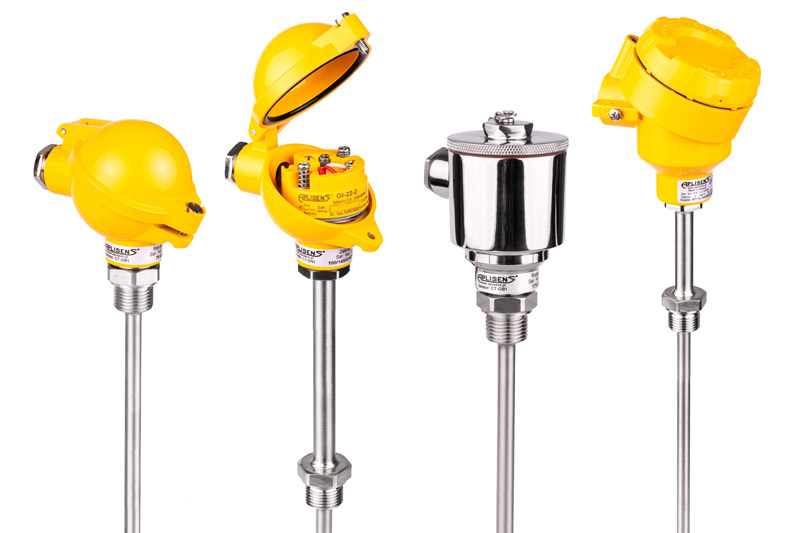 Temperature Sensors (RTDs and Thermocouples) are passive temperature measuring elements made to suit application from -200 to +1700°C. A Resistance Temperature Detector, RTD, provides a proportional change in resistance to temperature where a thermocouple generate a change in voltage for a given temperature by the reaction of two dissimilar metals in contact. These outputs are governed by standards like PT100 & PT1000 for RTDs and K & J for Thermocouples.
For resistance sensors (RTD) platinum resistors change their electrical resistance as a function of temperature. RTD, the most commonly used sensors in the industry, are suitable for applications between -200…+600°C. The accuracy classes A and B are available with a tolerance acc. to IEC 60751.
Thermocouples are made of two different conductors joined at the end. The temperature difference between junction, placed in measuring point (hot junction), and wire ends (cold junction), generate voltage proportional to the difference of temperature between these junctions. Thermocouples are suitable for the measurement of high temperatures, up to 1700°C. The accuracy classes 1 and 2 are available with tolerance acc. to IEC 60584.
See also: Temperature Transmitters for compatible integral or remote transmitters and signal conditioners.
Temperature / Sensors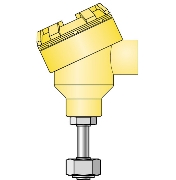 CT AL ‐ General Purpose Temperature Sensor with Screw Lid
Complete with replaceable RTD or Thermocouple insert

-200 to +550°C
2, 3 and 4 wire RTD (Pt50, Pt100, Pt1000, etc or thermocouple)
Compatible with head mount transmitters
Standard material of construction: 304 or 316L SS
Optional marine certificate
Simple apparatus for Ex ia applications

Data Sheet

CT I4 & CT I5 ‐ Temperature Sensor and Thermowell Assembly
Complete RTD and thermowell assembly

-70 to +150°C
8 mm diameter SS thermowell
2, 3 and 4 wire RTD inserts (Pt100, Pt1000, etc)
Standard wetted parts: 304 or 316L SS
Simple apparatus for Ex ia applications

Data Sheet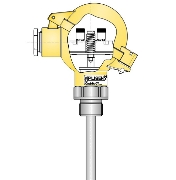 CT GB1 ‐ General Purpose Temperature Sensor
Complete with replaceable RTD or Thermocouple insert

-196 to +150°C
2, 3 and 4 wire RTD or thermocouple inserts (Pt50, Pt100, Pt1000, etc or thermocouple)
Single or dual sensor
Compatible with head mount transmitters
Standard wetted parts: 304 or 316L SS
Optional marine certificate
Simple apparatus for Ex ia applications

Data Sheet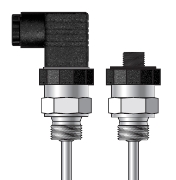 CT 25 ‐ General Purpose RTD Temperature Sensor
Compact RTD for applications up to 200°C

-40 to +200°C
2, 3 and 4 wire RTD type sensor (Pt50, Pt100, Pt1000, etc)
DIN EN 175301-803 (DIN 43650) and M12 electrical connectors
Standard wetted parts: 316L SS
Simple apparatus for Ex ia applications

Data Sheet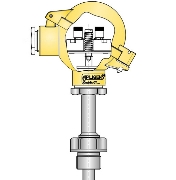 CT GN1 ‐ General Purpose Temperature Sensor with Cooling Extension
Complete with replaceable RTD or Thermocouple insert

-196 to +550°C
2, 3 and 4 wire RTD or thermocouple inserts (Pt50, Pt100, Pt1000... or J, K...)
Single or dual sensor
Compatible with head mount transmitters
Standard wetted parts: 304 or 316L SS
Optional marine certificate
Simple apparatus for Ex ia applications

Data Sheet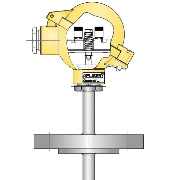 CT T1 ‐ Flanged Temperature Sensor
Complete with replaceable RTD or Thermocouple insert and flange to your specifications

-196 to +550°C
2, 3 and 4 wire RTD or thermocouple inserts (Pt50, Pt100, Pt1000... or J, K...)
Single or dual sensor
Compatible with head mount transmitters
Standard wetted parts: 304 or 316L SS
Optional marine certificate
Simple apparatus for Ex ia applications

Data Sheet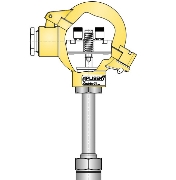 CT SW1 & SW2 ‐ Temperature Sensor with Weld Compatible Shield
Complete with replaceable RTD or Thermocouple insert

-70 to +550°C
2, 3 and 4 wire RTD or thermocouple inserts (Pt50, Pt100, Pt1000... or J, K...)
Single or dual sensor
Compatible with head mount transmitters
Standard wetted parts: 304 or 316L SS
Optional marine certificate
Simple apparatus for Ex ia applications

Data Sheet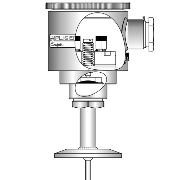 CT CL‐ Sanitary Temperature Sensor
Complete with replaceable RTD or Thermocouple insert

-70 to +150°C
2, 3 and 4 wire RTD and thermocouple inserts (Pt50, Pt100, Pt1000... or J, K...)
Single or dual sensor
Sanitary connection options: Tri-Clover, DIN 11851, Varivent (Tuchenhagen) and more.
Compatible with head mount transmitters
Standard wetted parts: 316L SS, optional electropolishing
Single or dual sensor
Simple apparatus for Ex ia applications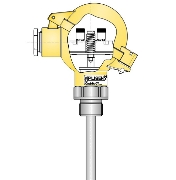 CT I6, I8 & P1 ‐ Temperature Sensor for use with movable process connections
Complete with replaceable RTD or Thermocouple insert and can be supplied with movable process fitting

-196 to +550°C
2, 3 and 4 wire RTD or thermocouple inserts (Pt50, Pt100, Pt1000... or J, K...)
Single or dual sensor
Compatible with head mount transmitters
Standard wetted parts: 304, 316L SS or 15HM
Optional marine certificate
Simple apparatus for Ex ia applications

Data Sheet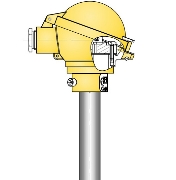 CT U ‐ High Temperature Sensor with Metal Shielding
Complete with replaceable Thermocouple insert and head resistant shield

-40 to +1100°C
J, K, S & B type thermocouple
Single or dual sensor
Compatible with head mount transmitters
Standard wetted parts: 314 SS
Simple apparatus for Ex ia applications

Data Sheet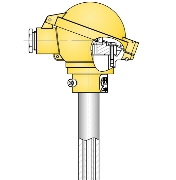 CT UC ‐ High Temperature Sensor with Metal and Ceramic Shielding
Complete with replaceable Thermocouple insert and head resistant shield

-40 to +1100°C
B, K, J and S type thermocouples
Single or dual sensor
Compatible with head mount transmitters
Standard wetted parts: 314 SS
Simple apparatus for Ex ia applications

Data Sheet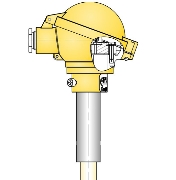 CT C ‐ High Temperature Sensor with Ceramic Shielding
Complete with replaceable Thermocouple insert and head resistant ceramic shield

-196 to +1700°C
B, K, J and S type thermocouples
Single or dual sensor
Compatible with head mount transmitters
Standard wetted parts: Ceramic
Simple apparatus for Ex ia applications

Data Sheet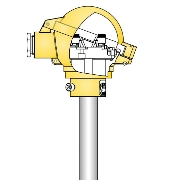 CT F ‐ Temperature Sensor with 2 Different Detection Points
Complete with replaceable Thermocouple insert and 2 user defined temperature points

-40 to +1000°C
B, K, J and S type thermocouples
Single and dual elements
Compatible with head mount transmitters
Standard material of wetted parts: 314 and Inconel
Simple apparatus for Ex ia applications

Data Sheet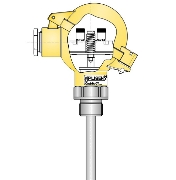 CT X ‐ Flexible Metal Temperature Sensor
Complete with RTD or Thermocouple

-196 to +1000°C
2, 3 and 4 wire RTD or thermocouple (Pt50, Pt100, Pt1000... or J, K...)
Single or dual sensor
Compatible with head mount transmitters
Standard wetted parts: Inconel (Thermocouple) or 316SS (Pt)
Simple apparatus for Ex ia applications

Data Sheet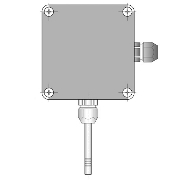 CT Z1 ‐ Ambient Temperature Sensor
Complete with replaceable RTD insert

-30 to +70°C
2, 3 and 4 wire RTD options (Pt50, Pt100, Pt1000...)
Sanitary connection options: Tri-Clover, DIN 11851, Varivent and more
Sanitary approval
Compatible with head mount transmitters
Standard wetted parts: 316 SS sensor, ABS case
Single or dual sensor
Simple apparatus for Ex ia applications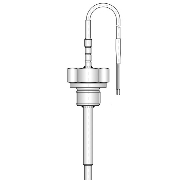 CT GE1, E1 & E2 ‐ Temperature Sensor with Fixed Cable
Complete with RTD or Thermocouple

-196 to +150°C
RTD or thermocouple (Pt50, Pt100, Pt1000... or J, K...)
Single or dual sensor
Compatible with head mount transmitters
Standard wetted parts: 304 or 316L SS
Simple apparatus for Ex ia applications

Data Sheet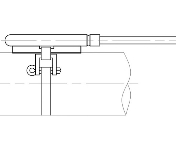 CT R5 & R6 ‐ Strap/Clamp on Temperature sensor
Complete RTD and clamp assembly for fixing to external surfaces like pipes

-30 to +180°C
RTD sensor (Pt50, Pt100, Pt1000...)
Single or dual sensor
Compatible with head mount transmitters
Standard wetted parts: 304 or 316L SS
Simple apparatus for Ex ia applications

Data Sheet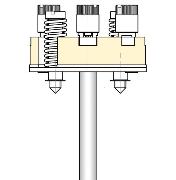 W2, 4 & 5 ‐ RTD and Thermocouple Inserts
Inserts for RTD and Thermocouple assemblies

-196 to +1800°C
2, 3 and 4 wire RTD and B, K, J & S thermocouples
Single or dual sensor
Compatible with head mount transmitters
Simple apparatus for Ex ia applications

Data Sheet