Guided Wave Radar (TDR)
The New Impulse™ Guided Wave Radar employs field proven TDR (Time Domain Reflectometry) technology to provide accurate measurement of Total Level, Distance or Volumetric outputs on all liquids and slurries. TDR (Guided wave radar) Technology has been widely used for its inherent ability to remain unaffected by variations in the process materials electrical characteristics. AMETEK Drexelbrook has harnessed the technology with easy to use configuration menus in plain language. You will have the level measurement you need, configured within minutes.
TDR Nozzle Eliminator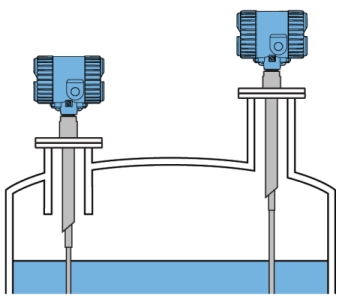 AMETEK Drexelbrook, the leader in level measurement technology, has added the new Wave Guide Nozzle Eliminator to its Impulse® Series Continuous TDR (time domain reflectometry) level transmitters. The new Wave Guide option eliminates signal interference normally caused by tank nozzles.
TDR works by pulsing microwave energy down a metal rod or cable. This pulse can be influenced by the mounting and thus conventional TDR's are limted to nozzle diameter greater than or equal in size to the nozzle length. 1:1. To overcome this limitation Drexelbrook has developed a unique nozzle eliminator for lengths up to 36".
Keeps mounting simple and cost down!
Level / Transmitters / TDR