Magnetostrictive Level Transmitters
Total Tank Level System
Magnetostrictive Liquid & Interface Level Sensor with Temperature outputs
- AMETEK Drexelbrook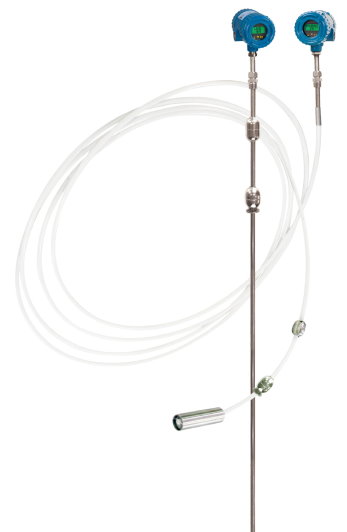 Sensors are available in 316SS rigid and flexible probe
designs with a choice of Single or Dual threaded mountings.
Systems include a dual compartment, IP66 / NEMA 4X housing
containing a wiring terminal strip and an IECEx intrinsically safe
approvals. All systems offer totally welded construction.
The Total Tank Level System is an Explosion Proof sensor
with Modbus digital output for total level, interface level
and temperature sensor outputs. Temperature sensors
are evenly distributed over the active length of the probe.
A variety of floats and mounting accessories are available
to fit virtually any application.

Accurately Measures:
Total Level
Interface Level
Temperature - 5 sensors over active range.
4-20mA & HART digital output for:
Total level
Interface level
Temperature
System diagnostics

Industry best accuracy
0.01% of measured span - less than 1 mm absolute,
over full measurement range.
Easy Installation
No calibration needed
Minimal Maintenance
Unique diagnostic output provides float position
beyond active range, as well as loss of float(s).
Designed for Hazardous Area Applications
Rigid Stainless Steel and Flexible Probe models
meet IECEx hazardous area approvals.
See specification section for details.
Sanitary 3A approval for Pharmaceutical,
Biotech and Food Industries

Data sheet - Total Tank Level Data Sheet - 4-20 mA
Data sheet - Total Tank Level Data Sheet - Modbus

Instruction manual - Total Tank Level - 4-20 mA
Instruction manual - Total Tank Level - Modbus
Read more.....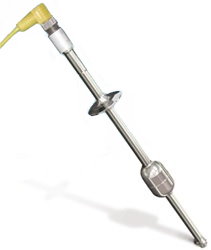 DM330S - 3A approved Sanitary transmitter
Magnetostrictive level transmitter - AMETEK Drexelbrook
The AMETEK Drexelbrook DM330S Magnetostrictive Level Measurement System takes field proven sensing technology and incorporates intrinsic safety with a field programmable zero and span. Packaging is our patented low clearance design, making the DM330S ideal for level monitoring in a variety of liquids and tank designs.
The rigid 316 stainless steel sensors are available with 180 grit for food service or 240 grit finish for higher grade sanitary applications. They are also offered with a mini-connector or an optional housing which includes terminal connectors with zero and span adjustments. All have totally welded and polished construction.
All of the sensor's electronics are integrated within the 5/8" diameter sensing tube. This breakthrough
in package design eliminates the electronics enclosure at the top of the sensor reducing cost

Data sheet - DM330S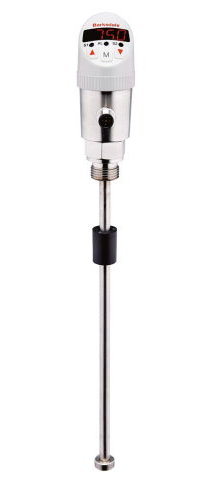 BLS3000
Economical reed based electronic level switch and transmitter.


The electronic level switch BLS3000 offers a Plus in advantages in relation to traditional level switches. The integrated reed relays enable nearly continuous level measuring as well as free customized set point adjustment. Due to digital indication and analogue output the feedback of the application is given quickly and reliably. In addition with panel height of 110 mm and diameter of less than 41 mm the required space for a BLS3000 is very low. This means installation even small power packs is easily undertaken.
The lengths are available from 250 to 1000 mm. The resolution is at 5 mm. Beside the switch function (max. 2 setpoints) the sensor family can also be used as transmitter with analogue output in 4 … 20 mA or 0… 10 V format.
The big 4-digit 14-segment LED display is not only aesthetically pleasing but also a real functional highlight. It ensures a perfect readability independent of the positioning like inversion of the display due to software-features. Menu and electrical connection refer to VDMA standard 24574-1.
Due to the rotatable 320° display and electrical connection, mounting and installation is very easy.
Features:
Dual setpoints
4-20 mA or 0-10 VDC
Large LED display with inversion
Programable outputs, alarms and functions.
Redundant measurement circuit for increased reliability

Data sheet - BLS3000